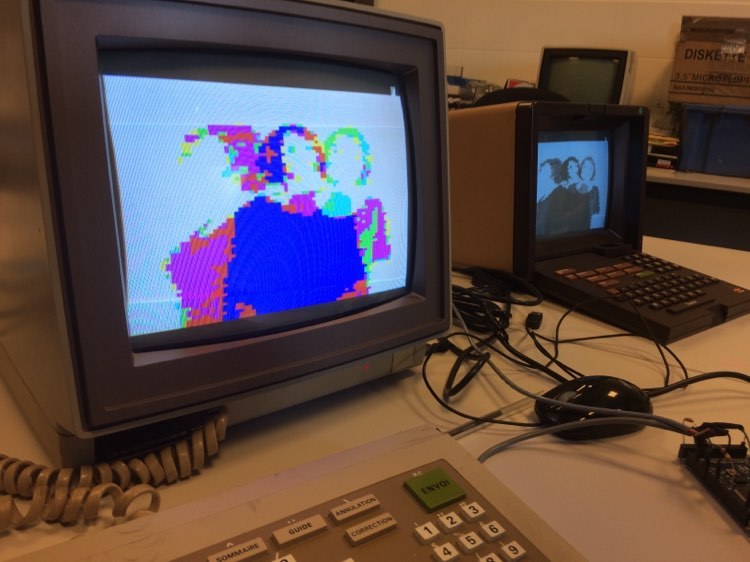 –
FR
Armandine Chasle est artiste et travailleuse sociale, installée à Montreuil.
En explorant les usages de dispositifs médiatiques obsolètes, elle interroge les matérialités de la mémoire et de la trace. Ses installations de fichiers falsifiés rendent compte de la dichotomie entre la mémoire humaine et la mémoire informatique.
Elle est également artiste au sein du collectif artistique médiarchéologiste PAMAL_Group.
Diplômée en humanités numériques et éditée en 2010 et 2011 (Editions de la rue nantaise), l'artiste a auto-publié un objet de lecture enrichie : L'Avaleur de sons -réunissant écriture, illustrations et sons.
En 2017, elle a fait partie des 101 artistes retenus par le dispositif Création en cours, soutenu par les Ateliers Médicis, le Ministère de la Culture et le Ministère de l'Education.
En 2018, elle inaugure les résidences d'artistes au sein de l'Institut Cerco au Bénin et participe aux programmes de recherches 3615.LOVE et (Block)chain of love créés par l'unité de recherches PAMAL.
En 2021, elle rejoint le projet Cyber_Cave mis en place par l'ESAD à Orléans.
–
EN
Armandine Chasle is a digital artist and social worker based in Montreuil.
Her research focuses on the uses of obsolete media devices and explores the materialities of memory and trace. Her installations of falsified files show the dichotomy between human memory and computer memory.
She is an artist within the mediarcheologist art collective PAMAL_Group.
Graduated in digital humanities and published in 2010 and 2011 (Editions de la rue nantaise), the artist has self-published an ebook : L'Avaleur de sons – combining writing, animations and sounds.
In 2017, she was one of the 101 artists selected by the Creation en cours program, supported by the Ateliers Médicis, the French Ministry of Culture and the Ministry of Education.
In 2018, she inaugurates the artist residencies at the Cerco Institute in Benin and participates in « 3615.LOVE » and « (Block)chain of love », both research programs created by the PAMAL research unit.
In 2021, she joined the Cyber_Cave project set up by ESAD in Orléans.
_

SOLO EXHIBITIONS ;
2022()
« Toi(t) », Emmaüs Solidarité/Ville de Paris (75)
2019()
« altered souvenirs », curator : Le Laboratoire Culturel – Vitry sur Seine (94)
« Correspondances », ÉSAA – Avignon (84)
2018()
« Service client courrier », O'Gib – Montreuil (93)
2017()
« altered souvenirs », Les rendez-vous de la chapelle – Le Dorat (87)
COLLECTIVE EXHIBITIONS [ SELECTION ] ;
2023()
« Lost & Found & Found » x PAMAL_Group, ZKM – Karlsruhe (DE)
2022()
« Profound Telematic Time » x PAMAL_Group, Centre Pompidou – Paris (75)
2021()
« Postale Outliers », The Boise State University Student Union Fine Arts Gallery (US)
« Call Mail Art », Post Museum, Singapore (SG)
2020()
« 3615.LOVE » x PAMAL_Group, Institut Français Slovénie – Ljubljana (SVN)
« Vision 20-20 » California Fluxfest 2020, Building Bridges Art Exchange – Santa Monica (US)
2019()
« 3615.LOVE » x PAMAL_Group, Festival des arts multimédia Gamerz / 15ème édition – Aix-en-Provence (13)
3615.LOVE x PAMAL_Group, Cookie Party 2019, Landy Sauvage – Saint Denis (93)
« Aperto » x Culture Dessinée, Crack festival forte prenestino – Rome (ITA)
« Fluxfest : Projet Pride Mail », Sheldon Rose Gallery – Toronto (CAN)
« Errors, Fakes, and Oddities: An International Mail Art Exhibition » – New Hampshire Institute of Art Sharon Arts Gallery (US)
2018()
« 3615.LOVE » x PAMAL – Centre culturel international Cerisy (50)
« Littérature en immersion » avec Anuar Cichero et Philippe Bootz –  Cotonou (BEN)
PERFORMANCES ;
2023()
« Angry Poetry Project », La Pointe Lafayette – Paris (75)
2022()
« La fille à Personne », La Pointe Lafayette – Paris (75)
« La fille à Personne », Bar L'imposture – Lille (59)
« Manuel d'utilisation », Journée d'étude : radio, art, rencontre, étudiant(e)s, ondes, art again et engagement – Radio Campus France
2019()
« La fille à Personne », ÉSAA – Avignon (84)
2018()
« La fille à Personne », O'Gib – Montreuil (93)
RESIDENCIES ;
2021() Atelier Médicis, Centre hospitalier Théophile Roussel – Montesson (78)
2018() Institut Cerco, Institut Cerco – Cotonou (BEN)
2017() Ateliers Médicis, École élémentaire – Le Dorat (87)
WORKSHOPS & TALKS [ SELECTION ] ;
2022()
Workshop « Les usages actuels de la réalité virtuelle », Festival Interstice / École Supérieure d'Arts & Médias, Caen (14)
2021()
Talk « Make a banana piano », La Fabrique des Savoirs – Nouveau Théâtre de Montreuil (93)
Digital inclusion session, Association Relais Accueil – Paris (75)
Media Archaeology initiation, Centre hospitalier Théophile Roussel – Montesson (78)
2019()
Talk « Dé-brancher l'oeuvre » with Lionel Broye, Université Paris 8 – Saint Denis (93)
Glitch art initiation, Bento/Laboratoire d'expressions – Mulhouse (68)
Artist Talk, École Nationale Supérieure des Beaux-arts – Lyon (69)
2018()
Workshop « Schémas narratifs VS schémas électroniques » with students in 'electronic sciences', institut Cerco – Cotonou (BEN)
2017()
Glitch art initiation, Grand paris sud – Évry (91)
Glitch art initiation, Ateliers Médicis – Le Dorat (87)
PRESS / PUBLICATIONS ;
2019()
I love to Spam, conference report « Art, littérature et réseaux sociaux »
Code X with PAMAL_Group, éditions HYX
2018()
« Création en cours/1ère édition », éditions Studio h'artpon
« Armandine Chasle et Anuar Cichero parlent des Humanités numérique » dans Fraternité (Bénin – 19 mars 18)
Reportage TV « Cerco initie un colloque sur les Humanités numériques en immersion » by Rachidath Orou (Bénin)
2016()
« Création en cours : 7 jeunes auteurs en résidences dans les écoles françaises » in Actualitté
2015() L'Avaleur de sons, auto-publication
2011() Preface in Rencontre vent et marées by Pierre-Véro Réshytto – Éditions de la rue Nantaise
2010() « Sourire d'un autre temps », short story in L'île des valeureux – Éditions de la rue Nantaise
ACADEMIC RESEARCH / R&D ;
2019()
Publication « Art, littérature et réseaux sociaux », PAMAL/Paris 8
Publication « Humanisme numérique, littérature en immersion », institut Cerco/Paris 8 – Laboratoire Paragraphe
2018()
Workshop « 30be96a64efa6045400ecb937e3156fe18eb962e834e1b0dba81ec749363da24 » with OBS/in – Arles (13)
Conferences « Art, littérature et réseaux sociaux », PAMAL/Paris 8 -Centre culturel international Cerisy (50)
Talk « Humanisme numérique, littérature numérique en immersion », institut Cerco – Cotonou (BEN)
STUDIES ;
2022() Project CYBER_CAVE, ESAD / École Supérieure d'Art et de Design – Orléans (45)
2017+2019() DSRA-PhD Student, PAMAL (Preservation & Art Media Archaeology Lab) – École Supérieure d'Art d'Avignon (84)
2014() Master Écriture, Littérature et Livre numérique, Université Paris 8 – Saint-Denis-Vincennes (93)
2013() Auditor, INA-GRM – Paris (75)
MORE ;
2017+2020() At the initiative of the collective KYMT (label, coordination de soirées musicales, expositions, etc.)
2017+2018() Art direction, « Les soirées de Francine », collectif KYMT/LaCouveuse
2017+2018() Member of the collective, la M/O/B
2016+2020() Member of the collective Culture Dessinée (alias CLEBS)